不同来源间充质干细胞标志物汇总(全)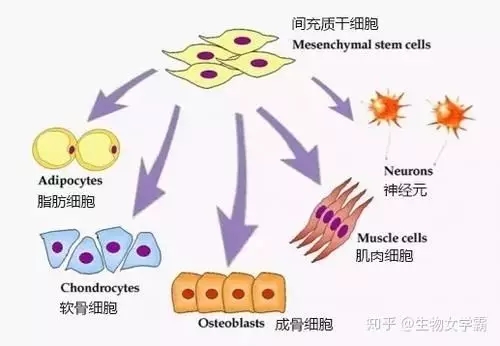 间充质干细胞(mesenchymal stem cells,MSC)是一种源于中胚层的早期干细胞,具有多向分化潜能,特定的条件下可分化为骨细胞、软骨细胞和神经细胞等,支持造血,具备低免疫原性和免疫调节活性,具有广泛的科研和临床应用价值。主要存在于结缔组织和器官间质中,以骨髓中含量最为丰富,少量存在于血液及其他组织中。

近年来随着基础科研和临床研究的不断深入,MSC在医学领域的应用价值也得到了极大肯定,但仍然存在一些问题,如:缺少特异性表面标志物,鉴定困难;多次传代后分化能力不能保留;诱导分化调控机制尚不明确等,都是有待于进一步研究和讨论的。MSC主要关键基因和表面分子包括CD73、CD90、CD105,表达极少或无表达CD11b、CD19、CD34、CD45和HLA-DR,其中不同来源之间的MSC标志物存有一定差异性,这里列出来供大家参考。
外周血(Peripheral derived blood)来源[1]
阳性:CD105, CD90, CD73, CD73, CD44, CD90.1, CD29, CD105, CD106, CD140α
阴性:CD34, CD19, CD11b
骨髓(Bone marrow)来源[2]
阳性:CD105, CD13, CD140b, CD147, CD151, CD276, CD29, CD44, CD47, CD59, CD73, CD81, CD90, CD98
阴性:CD14, CD31, CD34, CD45
皮肤(Skin)/包皮(foreskin)来源[3]
阳性:CD29, CD44, CD73, CD90, CD105, vimentin
阴性:CD34, CD45, HLADR
脂肪(Adipose)来源[4]
阳性:CD9, CD29, CD44, CD54, CD73, CD90, CD105, CD106, CD146, CD166
阴性:CD14, CD31, CD34, CD45, CD133, CD144, HLA-DR, STRO-1
尿液(Urine)来源[5,6]
阳性:CD29, CD44, CD54, CD73, CD90, CD105, CD166,STRO-1, Oct-4, Klf-4, Sox-17, vimentin
阴性:CD41, HLA-DR
心(Heart)来源[7]
阳性:CD44, CD105, CD29, CD90
阴性:CD14, CD45, CD34, CD31
牙(Dental)来源[8,9]
阳性:CD13, CD29, CD44, CD49, CD73, CD90, CD146, STRO-1, Oct-3/4, NANOG, SSEA-3
阴性:CD14, CD31, CD34, CD45, HLADR
骨骼肌(Skeletal muscle)来源[10]
阳性:CD29, CD44, CD49E, CD56, CD73, CD90, CD105, HLA-I
阴性:CD34, CD45
胰腺(Pancreas)来源[11]
阳性:CD105, CD90, CD73, CD44, CD29, CD13, nestin,vimentin, CD146, NG2, α-SMA, PDGF-R β
阴性:CD31, CD34, and CD45, CK19, CA19.9
肺(Lung)来源[12]
阳性:CD73, CD90, and CD105, vimentin, prolyl-4- hydroxylase
阴性:CD14, CD34, CD45
胚胎干细胞(ESC)[13]
阳性:CD29, CD44, CD73, CD105, SSEA-4
阴性:CD34, CD45, HLADR
诱导多能干细胞(iPSC)[14]
阳性:CD29, CD44, CD166, CD73, CD105, KDR, MSX2
阴性:CD34, CD45, HLADR
沃顿果冻(Wharton jelly)来源[15]
阳性:CD44, CD73, CD90, CD105, CD166
阴性:CD14, CD34, CD45
胎盘(Placenta)来源[16,17]
阳性:CD105, CD73, CD90c-kit, Thy-1, Oct-4, SOX2, hTERT, SSEA-1,3,4, TRA-1
阴性:CD34, CD45, CD14 or CD11b, CD19, HLA-DR
脐带(Umbilical cord)来源[18]
阳性:CD73, CD90, CD105, Oct-4, Nanog, ABCG2, Sox-2,Nestin
阴性:CD34, CD45, CD19, HLA-DR
绒毛(Chorionic villi)来源[19]
阳性:CD44, CD117, CD105, α-SMA, CD49, CD146, CD106, CD166, Stro-1, vWF
阴性:CD34, CD45, CD19, HLA-DR
绒毛膜(Chorionic membrane)来源[20]
阳性:CD44, CD49, CD56, CD73, CD90, CD105
阴性:CD45, CD34, CD14, CD31, EPCAM, HLA-DR
脐带血(Cord blood)来源[17]
阳性:CD29, CD 73, CD105, CD44, Oct-4, Sox-1, Sox2, NANOG, ABCG2, Nestin
阴性:CD34, CD45
子宫内膜(子宫内膜)来源[21]
阳性:CD73, CD90, CD105, CD166, HLA-ABC, Oct-4
阴性:CD14, CD34, CD45, HLA-DR
羊膜(Amniotic membrane)来源[22,23]
阳性:CD73, CD90, CD105, Oct-4, SSEA-4, Tra-1
阴性:CD11b, CD14, CD19, CD79α, CD34, CD45, HLA-DR

羊水(Amniotic fluid)来源[24]
阳性:CD73, CD90, CD105, CD166, MHC class I, Oct-4, EA- 1
阴性:CD 45, CD40, CD34, CD14, HLA- DR
参考文献:
1.Li S, Huang K-J, Wu J-C, Hu MS, Sanyal M, Hu M, Longaker MT, Lorenz HP. Peripheral blood-derived mesenchymal stem cells: candidate cells responsible for healing critical-sized calvarial bone defects. Stem Cells Transl Med. 2015;4(4):359–68.
2. Amati E, Perbellini O, Rotta G, Bernardi M, Chieregato K, Sella S, Rodeghiero F, Ruggeri M, Astori G. High-throughput immunophenotypic characterization of bone marrow- and cord blood-derived mesenchymal stromal cells reveals common and differentially expressed markers: identification of angiotensin-converting enzyme (CD143) as a marker differentially expressed between adult and perinatal tissue sources. Stem Cell Res Ther. 2018;9(1):10.
3. Park JR, Kim E, Yang J, Lee H, Hong SH, Woo HM, Park SM, Na S, Yang SR. Isolation of human dermis derived mesenchymal stem cells using explants culture method: expansion and phenotypical characterization. Cell Tissue Bank. 2015;16(2):209–18.
4. Schäffler A, Büchler C. Concise review: adipose tissue-derived stromal cells—basic and clinical implications for novel cell-based therapies. Stem Cells. 2007;25(4):818–27.
5. Zhang D, Wei G, Li P, Zhou X, Zhang Y. Urine-derived stem cells: a novel and versatile progenitor source for cell-based therapy and regenerative medicine. Genes Dis. 2014;1(1):8–17.
6. Pavathuparambil Abdul Manaph N, Al-Hawwas M, Bobrovskaya L, Coates PT, Zhou X-F. Urine-derived cells for human cell therapy. Stem Cell Res Ther. 2018;9(1):189.
7. Pilato CA, Stadiotti I, Maione AS, Saverio V, Catto V, Tundo F, Dello Russo A, Tondo C, Pompilio G, Casella M, et al. Isolation and characterization of cardiac mesenchymal stromal cells from endomyocardial bioptic samples of arrhythmogenic cardiomyopathy patients. J Vis Exp. 2018;132:57263.
8. Huang GTJ, Gronthos S, Shi S. Mesenchymal stem cells derived from dental tissues vs. those from other sources: their biology and role in regenerative medicine. J Dent Res. 2009;88(9):792–806.
9. Ledesma-Martínez E, Mendoza-Núñez VM, Santiago-Osorio E. Mesenchymal stem cells derived from dental pulp: a review. Stem Cells Int. 2016;2016:4709572.
10. Čamernik K, Mihelič A, Mihalič R, Marolt Presen D, Janež A, Trebše R, Marc J, Zupan J. Skeletal-muscle-derived mesenchymal stem/stromal cells from patients with osteoarthritis show superior biological properties compared to bone-derived cells. Stem Cell Res. 2019;38:101465.
11. M Ahmed S, El-Badri N. Pancreatic mesenchymal stromal cells: characteristics and possible origin. Liver Pancreatic Sci. 2016;1(1).
12. Martinu T, Palmer SM, Ortiz LA. Lung-resident mesenchymal stromal cells. Am J Respir Crit Care Med. 2011;183(8):968–70.
13. Hawkins KE, Corcelli M, Dowding K, Ranzoni AM, Vlahova F, Hau KL, Hunjan A, Peebles D, Gressens P, Hagberg H, et al. Embryonic stem cell-derived mesenchymal stem cells (MSCs) have a superior neuroprotective capacity over fetal MSCs in the hypoxic-ischemic mouse brain. Stem Cells Transl Med. 2018;7(5):439–49.
14. Xu M, Shaw G, Murphy M, Barry F. Induced pluripotent stem cell derived mesenchymal stromal cells are functionally and genetically different from bone marrow-derived mesenchymal stromal cells. Stem Cells. 2019;37(6):754–65.
15. Pittenger MF, Mackay AM, Beck SC, Jaiswal RK, Douglas R, Mosca JD, Moorman MA, Simonetti DW, Craig S, Marshak DR. Multilineage potential of adult human mesenchymal stem cells. Science. 1999;284(5411):143–7.
16. Matikainen T, Laine J. Placenta--an alternative source of stem cells. Toxicol Appl Pharmacol. 2005;207(2 Suppl):544–9.
17. de la Torre P, Jesús Pérez-Lorenzo MI, Flores A. Human placenta-derived mesenchymal stromal cells: a review from basic research to clinical applications; 2019.
18. Iwatani S, Yoshida M, Yamana K, Kurokawa D, Kuroda J, Thwin KKM, Uemura S, Takafuji S, Nino N, Koda T, et al. Isolation and characterization of human umbilical cord-derived mesenchymal stem cells from preterm and term infants. J Vis Exp. 2019;143.
19. Divya MS, Roshin GE, Divya TS, Rasheed VA, Santhoshkumar TR, Elizabeth KE, James J, Pillai RM. Umbilical cord blood-derived mesenchymal stem cells consist of a unique population of progenitors co-expressing mesenchymal stem cell and neuronal markers capable of instantaneous neuronal differentiation. Stem Cell Res Ther. 2012;3(6):57.
20. González PL, Carvajal C, Cuenca J, Alcayaga-Miranda F, Figueroa FE, Bartolucci J, Salazar-Aravena L, Khoury M. Chorion mesenchymal stem cells show superior differentiation, immunosuppressive, and angiogenic potentials in comparison with haploidentical maternal placental cells. Stem Cells Transl Med. 2015;4(10):1109–21.
21. Cheng Y, Li L, Wang D, Guo Q, He Y, Liang T, Sun L, Wang X, Cheng Y, Zhang G. Characteristics of human endometrium-derived
mesenchymal stem cells and their tropism to endometriosis. Stem Cells Int. 2017;2017:4794827.
22. Mutlu L, Hufnagel D, Taylor HS. The endometrium as a source of mesenchymal stem cells for regenerative medicine. Biol Reprod. 2015;92(6):138.
23. Corradetti B, Correani A, Romaldini A, Marini MG, Bizzaro D, Perrini C, Cremonesi F, Lange-Consiglio A. Amniotic membrane-derived mesenchymal cells and their conditioned media: potential candidates for uterine regenerative therapy in the horse. PLoS One. 2014;9(10):e111324.
24. Thilakavathy K, Nordin N, Ramasamy R, Ghoraishizadeh P, IMR R, Singh G. Characteristics of full-term amniotic fluid-derived mesenchymal stem cells in different culture media; 2017.